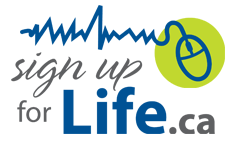 The Pinawa Foundation would like to thank-you as 350 residents that have signed up to be a hero so far. The Foundation has partnered with Transplant Manitoba to promote a campaign to get 500 Pinawa residents to register on-line to be organ and tissue donors. Pinawa's "Drive to 500 Campaign" coincides with our upcoming 50th Birthday. "We are pleased with our campaign and I am hopeful that we can get to 500 by July 30" said Chris Saunders, Chairman of the Foundation. "A key step for us is to make sure that everyone that has registered tells us so we can include them in our total".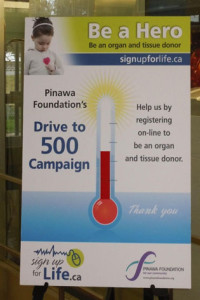 Pinawa Foundation, in collaboration with the Lac du Bonnet & District Charitable Foundation, Transplant Manitoba and the Canadian Blood Services, hosted our second information display at the Blood Donors Clinic in Lac du Bonnet on May 22. "We had a great day" said Chris Saunders, Executive Director of the Pinawa Foundation. "We registered 150 new donors to the program at these information displays".
"It is important to understand that signing your driver's license only let's your family know your wishes. They still need to make the decisions and file appropriate paperwork at the time of your passing" said Saunders. "When you register your wishes on-line, your donation decision is recorded. You relieve your family of the burden to make this decision without your input".
If you missed your opportunity to sign up to be an organ or tissue donor, please see us at the next blood donor's clinic. You can also see Pat Porth at the Two Rivers Seniors Resource Council Office at the Pinawa Shopping Centre Tuesdays and Thursdays. You can also sign up at home by going to www.signupforlife.ca. Once you register, please let us know. You can send your name directly to info@signupforlife.ca and tell them you are from Pinawa. You can also email the Pinawa Foundation at info@pinawafoundation.org or call us at 204-753-2446.