The Guthrie family has gifted The Pinawa Foundation with scholarship money in memory of Gladys Guthrie. The first scholarship will be offered in 2013.
The scholarship will be awarded to a graduating student of Pinawa Secondary School who is entering the health profession in any of the following fields: nursing program or allied health profession program (e.g. BN RN, LPN, diagnostic imaging, physiotherapy, occupational therapy, respiratory therapy, lab technician). The successful applicant for the scholarship will have demonstrated community involvement with an emphasis on volunteering in the broader community beyond the school environment.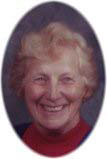 Gladys Guthrie was herself a nurse and she personified caring and compassion for the Pinawa community throughout her life here. She is missed by all who knew her and the Foundation is honoured to assist the Guthrie family with this tribute to her memory.