The Pinawa Foundation partnered with Transplant Manitoba to promote the cause of organ donation by registering 500 Pinawa residents to be organ and tissue donors at SignUpForLife.ca. In initiating this "Drive to 500 Campaign" they have issued a challenge to neighbouring communities to match or exceed the goal of 500 registered tissue donors. The Lac du Bonnet & District Charitable Foundation supports the cause of tissue donor registration and urges you take up the Pinawa Foundation's Challenge.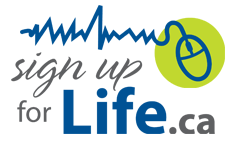 Organ donation saves and improves the quality of life for thousands of Canadians every year. Registering your wishes to be an organ and tissue donor not only helps someone else, it helps your family as well. When you register your wishes, this information is made available to your family at the right time, ensuring that your donation decision is known and respected. By making a donation decision today, you relieve your family of the burden to make this decision without your input.
To assist in this objective the two foundations , in collaboration with the Canadian Blood Services and Transplant Manitoba will be holding a registration drive at the next Lac du Bonnet Blood Donor Clinic scheduled for 2013 March 27 at the Lac du Bonnet Community Centre. Computer access for immediate online registration will be provided and personnel will be available to help you register as a tissue donor and insure that your community is credited with your registration in the drive for 500 challenge.
For More Information go to: www.transplantmanitoba.ca or www.signupforlife.ca
Or on Facebook and Twitter at www.facebook.com/transplantmanitoba @TransplantMB
You do not have to wait until March 27th to be included in the "Drive to 500". You can register now to be a donor at www.signupforlife.ca. You will be issued a donor card, which you can print out at that time. Once you register, you need to e-mail a copy of your donor card directly to info@signupforlife.ca. In the subject line of the e-mail, just say: Pinawa Resident
If you have previously registered to be a donor, you can still be part of our campaign by e-mailing a scanned copy of your donor card to the address above with your town or municipality of residence in the subject line.