The Pinawa Foundation attended the Grand Opening of the new walk-in tub at the Ironwood Supportive Living Facility on May 10, 2018. The Foundation raised over $32,000 for this project in 2017. Major contributors to the three-month campaign were the Pinawa Health Auxiliary, the Ironwood Corporation, Acsion Industries, MB Hydro's Winnipeg River Generating Station staff, and 32 residents of Pinawa. The need for a walk-in tub was identified by the Pinawa Health Auxiliary a few years ago. This new tub facility eliminates the need to transport residents to the Pinawa Hospital for baths.
"This is the type of project that the Pinawa Foundation is proud to support" said Chris Saunders, Chairman of the Foundation. "Pinawa residents were in need and we had the ability to help". The Foundation would like to thank all of the individuals and groups that made this campaign a success.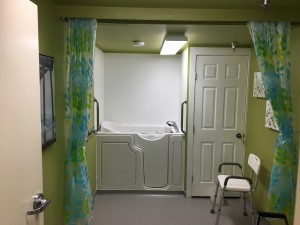 Ironwood's New Walk-In Tub Facility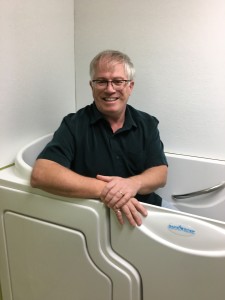 Chris Saunders Testing the Tub
.