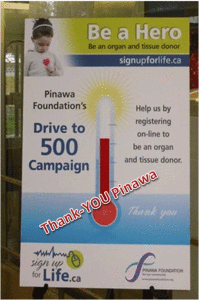 The Pinawa Foundation would like to thank‐you the over 400 local people that have signed up to be a hero so far. The Foundation partnered with Transplant Manitoba to promote a campaign to get Pinawa residents to register on‐line to be organ and tissue donors. "We are so pleased with our campaign and I am confident that we can get to 500 donors by the end of the summer" said Chris Saunders, Chairman of the Foundation. "A key step for us is to make sure that everyone that has registered tells us so we can include them in our total".
"It is important to understand that when you register your wishes online, your donation decision is recorded. You relieve your family of the burden to make this decision at a very difficult time".
If you still want to help us get to 500 donors, please see Pat Porth at the Two Rivers Seniors Resource Council Office at the Pinawa Shopping Centre Tuesdays and Thursdays. You can also sign up at home by going to www.signupforlife.ca. Once you register, please let us know. You can send your name directly to info@signupforlife.ca and tell them you are from Pinawa. You can also email the Pinawa Foundation at info@pinawafoundation.org or call us at 204‐753‐2446.