The Pinawa Foundation represented by Carol Findlay was pleased to present the Pinawa Foundation Scholarship.  This award goes to a student who has demonstrated an active interest in their school community as well as the community beyond the walls of PSS. This student is an outstanding example of a volunteer model who gives back to the community.  
Pinawa Foundation Scholarship ($500)
Kevin Lamb demonstrated his community involvement through his participation on Student Council at Pinawa Secondary as well as serving on the Yearbook Committee.  He was a junior leader for outdoor ed. trips and a student coach for the junior high basketball team.  His volunteer activities extend beyond the school to work with the Pinawa Free Spirit Triathlon and minor hockey activities including refereeing.  Kevin plans a career in business.  He starts in Business Administration this fall at Red River College.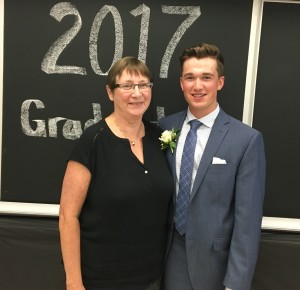 Kevin Lamb recipient of the Pinawa Foundation Community Scholarship with Carol Findlay of the Pinawa Foundation