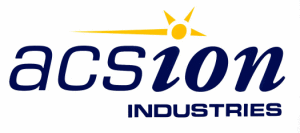 Acsion Industries and the Prairie Isotope Production Enterprise (PIPE) have partnered with the Pinawa Foundation to help the Pinawa Hospital raise funds for their Peripherally Inserted Central Catheter (PICC) Line program. The goal of the "Pinawa Cares" Campaign is to raise $57,000 to purchase ultrasound technology local patients can receive treatment in Pinawa rather than go to Winnipeg.

Acsion is a local company focused on isotope manufacturing technologies and radiation safety. PIPE is a Winnipeg-based corporation formed by Acsion, the Winnipeg Regional Health Authority and the University of Winnipeg, tasked with developing new radiopharmaceuticals to detect cancer.
For the "Pinawa Cares" Campaign, Acsion and PIPE will match all donations to the Pinawa Foundation from any Pinawa group, business, or individual up to a total of $20,000. The Foundation can provide tax receipts for your donation.
Chris Saunders, President of Acsion and the Executive Director of the Pinawa Foundation believes this partnership shows how local businesses can get together to get the job done. "Acsion, PIPE and the Foundation are very proud that we can help support this important program. Our goal is to make cancer treatment a little easier for people in the region". Reducing the number of trips to Winnipeg has to be a help. We are hoping the community gets involved to get us to our goal" says Chris.
The Pinawa Foundation will accept donations and provide a charitable tax receipt for any donation over $25. Acsion and PIPE will match all donations made until September 30, 2014. With the community coming together, we should meet our goal of $40,000.
To make a donation to the Pinawa Foundation, please mail cheques to Box 100, Pinawa, MB, R0E 1L0. Please remember to include a note that the donation is to be used for the "Pinawa Cares" Campaign to support the "PICC" Line Program.